Artist Teachers Workshop: Non Calligraphy / SuperDudeyWords
For two days this summer, I worked with a group of Art Teachers from schools in the North West of England. Katie Musgrove / Ged Doolan / David McDowell / Gill Hislop / Christopher Eplett / Emma Sullivan / Andrea Mackintosh / Liz Shelbourne / Hannah West.  All the staff had different undergraduate degrees.
The teachers were asked to choose and worked from selected text –  A Midsummer Night's Dream; William Shakespeare / Late Fragment; Raymond Carver / Judy is a Punk; The Ramones.  The group produced a single large format publication and a film documenting the event and book. For the eagle eyed amongst you, the cool, older fella in black is me. One aspect of the day was working on my SuperDudeyWords project – using my custom made writing pens. Non of the teachers were sent out of class or given lines.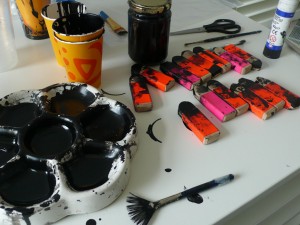 Technical support from the Liverpool School of Art & Design – Super A Team; Andy Freeney + Caros Santos .
Music was a little known Chicago Acid House track, my Sweatshirt was by Cahartt
The event was organised by Sandra Hiatt – More words to follow.