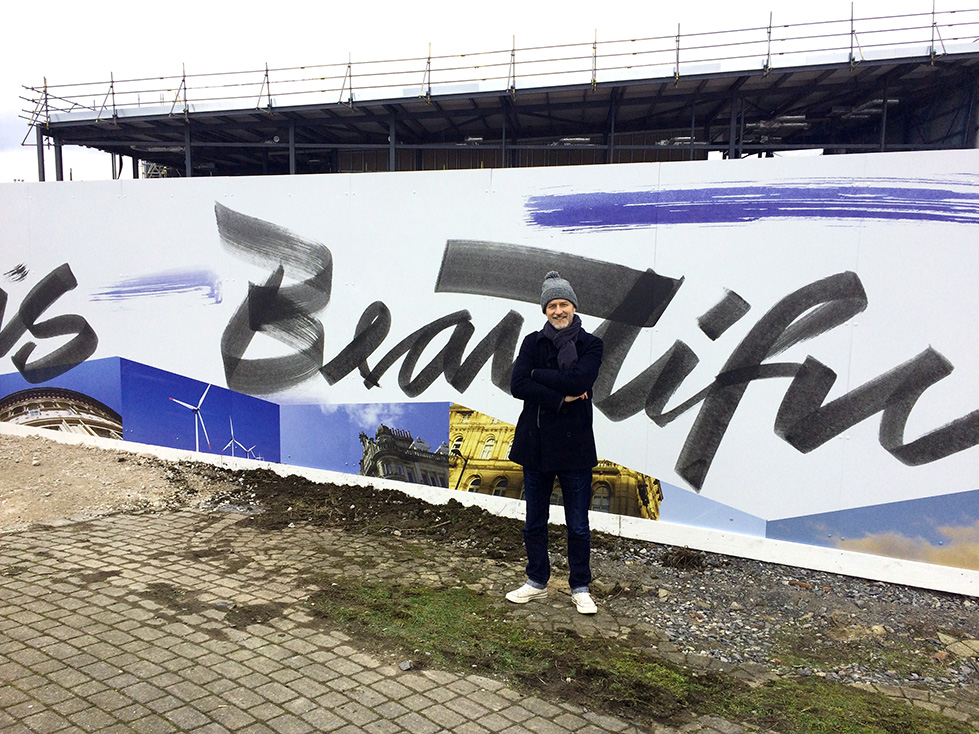 This Beautiful Place a celebration of Liverpool's evolution and its role as home to one of the UK's most exciting and innovative energy infrastructure projects: DONG Energy's Burbo Bank Extension Offshore Windfarm.
The 80 foot x 8 foot 19 panel Graphic at Kings Wharf on The River Mersey in Birkenhead, Liverpool is due to be installed soon. More Pictures to follow.
Behind this hoarding Robertson are constructing the windfarm's operation and maintenance base,a building that will become a new feature of the Mersey riverfront, just as the giant wind turbines have become integral to the city's horizon. Offshore wind is an industry that is changing literal and metaphorical horizons in coastal communities around the country. I worked with Poet Nathan Jones and  local students from Wirral Met College to record their response to the changes to their local area, to their city's horizons and what these changes mean for them.
This is the original Concept – Please Don't Stop Loving Me. It resonates more with the city's musical heritage and the relationship between Liverpool and Birkenhead. Birkenhead and Wallasey have mixed economies and a somewhat unloved appearance. It is not,as one friend unkindly put it, 'full of bag heads'.